As most of you know, I have supported a number of causes that have personal significance to my family. One of my favorites my involvement as a Board Director for the Colorado Sports Hall of Fame.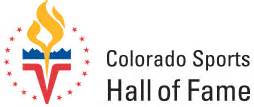 In December 2016, the CSHOF hosted one of its three primary fundraisers of the year: The 4A and 5A High School Football Championships at Mile High Stadium.  The organization also hosts its annual induction ceremony for the Hall of Fame and a golf tournament in the fall at the Broadmoor in Colorado Springs to support the organization and also raise money for causes important to us.
For the second year in a row, the 5A game (coincidentally) featured my alma mater, Pomona High School in Arvada, Colorado and my current hometown's Valor Christian High School.  Valor is blocks away from us in Highlands Ranch and is the school my son wants to attend.  For the 7th time in 8 years, Valor claimed the state throne.  It was fun to watch so many kids and families that we had a connection to.
There is something very special about being involved with a board like the Colorado Sports Hall of Fame.  Although it is not a foundation (and has no intention of being one), the organization has leveraged its success in supporting athleticism, sportsmanship and community partnership – surpassing this year the threshold of $1.3 million in decade-long giving.  We help invest in initiatives focused upon inner-city, youth and disabled sports programs throughout Colorado, knowing that the future Colorado Sports Hall of Fame athletes of tomorrow may be given a chance to succeed that they may not have had without our advocacy. As the mother of twins, age 9 (including one with special needs benefiting from local Special Olympics and National Sports Center for the Disabled programs that the Hall supports), I could not be more proud to lend my name and financial support to this organization.
As a general message, I encourage everyone of you to join a board (paid or upaid) in support of a cause that matters to you.  Difference making in our communities – business and beyond – it was makes the mark of a true leader.  And as a personal request, I invite you to join me in supporting the Colorado Sports Hall of Fame.  Please consider hosting a table at our upcoming induction banquet in April (where we will be honoring such athletes as the Colorado Rockies' Dante Bichette, the Denver Broncos Champ Bailey, the Colorado Buffaloes and US Team's Jeremy Bloom) or a foursome at our fall golf tournament at the Broadmoor Resort in Colorado Springs.
Please contact me for more information via karnold@escalatesolutions.com
Save
Save
Save
Save
Save
Save
Save
Save
Save
Save
Save
Save