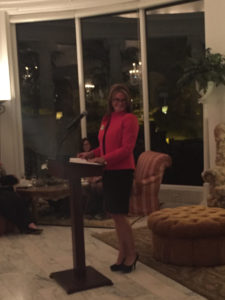 Escalate Solutions CEO Kimberly Arnold has seen a surge in requests throughout
the past few years for keynotes, guest lecturing and expert panel participation.
Professionally, Kimberly has been invited to share her thoughts on such subjects as entrepreneurship, growth strategy, characteristics of sustainable businesses, women of influence and the intersection of business and philanthropy.
Kimberly is also a sought-after speaker for sharing stories of her personal experiences. Like all successful leaders, Kimberly and her family have had to overcome their fair share of challenges.  A single mother of young twins, one of the topics that she most frequently is asked to present to audiences and organizations is the story of her daughter's journey through heart, cancer and stroke issues, and how Kimberly found comfort, control and the opportunity to give back to the many organizations that helped her family by becoming an entrepreneur.
Recent audiences and organizations include:
Metro State University College of Business | Center for Entrepreneurship
SIM Women of Colorado
The University of Colorado at Denver Business School (Jake Jabs Center for Entrepreneurship)
Association for Corporate Growth
Colorado Women's Alliance
Denver Gives Week
Denver Startup Week
Children's Hospital Colorado Foundation
American Heart Association | American Stroke Association
Business Women's Network (BWN)
Coloradans for Responsible Energy Development (CRED), Power Women Series
Colorado State Legislature (Testimony)
Colorado State University (Commencement Ceremony Keynote)
Additional conference panel engagements include:
Central Exchange Leadership Program, Kansas City
Global Gaming Expo (G2E)
Global Gaming Women (GGW)
iGaming North America (IGNA)
International Masters of Gaming Law (IMGL)
National Council of Legislators of Gaming States (NCLGS)
North American Gaming Regulators Association (NAGRA)
Retail, Dining & Entertainment Experience (RD&E)
Save