ALL STAKEHOLDERS ARE NOT CREATED EQUAL
How many times have you heard leadership prioritizing "meeting the needs of stakeholders", without discerning between who those stakeholders are, how their roles differ, and how each category of stakeholder must be leveraged?
Stakeholders are ALL of the parties impacting or impacted by an organization. This includes the c-suite, employees, customers, collaborators, investors and the broader ecosystem. It is critical to success, growth and scaling of organizations that every stakeholder understands the strategy and their role in achieving it at a level appropriate to them.
Stakeholders should be considered in one or more categories based upon their overall influence (engagement + control). The matrix below summarizes roles and communication parameters through the stakeholder's lens. The higher the level or engagement or control, the more important that those stakeholders are empowering the mission.  Similarly, just because Implementers (core staff) don't have the greatest control, that doesn't mean that they don't need to feel valued enough to stay engaged (or to literally stay at the organization).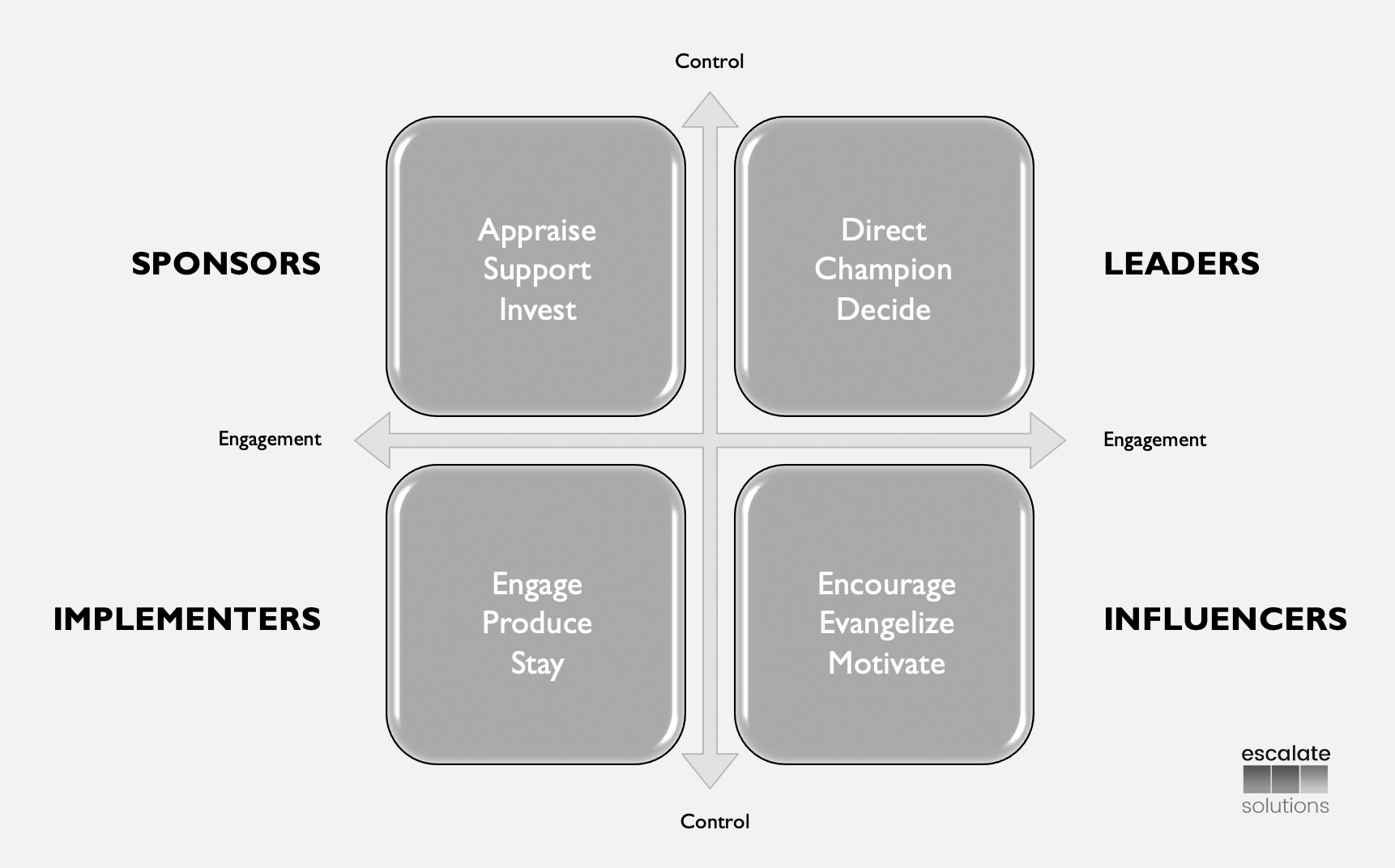 Stakeholder engagement begins with a collaborative mindset and clarity of roles that help inspire investment – figuratively and literally – in the aims of the organization.  Like strategy itself, maintaining stakeholder engagement in each category of Sponsors, Leaders, Implementers and Influencers is a continuous and ongoing process that has to address both internal and external alignment. As with all things digital transformation, how these conversations are maintained are people-centric and technology-enabled.  
There are many reasons for the Great Resignation that began in haste in 2021, and it is clear to see how clarity surrounding stakeholders is a critical element of the discussion. Do your stakeholders understand their value and role as they need to?  And does your leadership provide them with the right level of information, empathy and understanding to keep them invested in the mission?